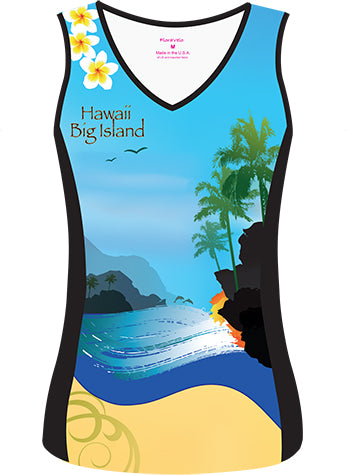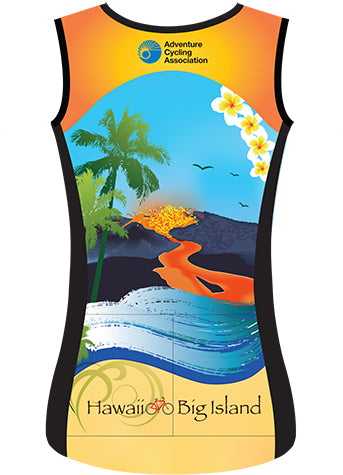 Adventure Cycling Hawaii Big Island Sleeveless Jersey
PLEASE NOTE: This is a custom printed jersey and cannot be returned or exchanged. Please refer to the

Size Chart

and

FAQ page

or contact us at customer service for information on jersey fit.

Custom Jerseys Ship 2-3 weeks from the order date.

Fabrics: We use 2 different technical performance fabrics in the body of our jerseys. The fabric on the front is light and stretches in all directions, providing a great fit and maximum comfort for most body types. On the back we use a different wicking performance fabric that only stretches horizontally around your body. The result is an extremely comfortable jersey with very functional pockets that don't sag when you fill them up.
Made in the USA:  All of our products are designed and manufactured in the USA with the highest quality standards.

Photo of Side Pocket on back right side panel containing an iPhone 7. Many smartphones will fit in the pocket even if they are larger due to the side-to-side stretch in the fabric. Very large phones usually don't fit comfortably. Phone slides into the outside pocket. The covered pocket (lower arrow) is secure and separate from the phone - works great for key/ID/credit card. (Some small phones without a case will also fit in this covered portion). Approx. pocket dimensions - 3" across the top, 3-1/2 at the bottom, and 5-1/4" high.